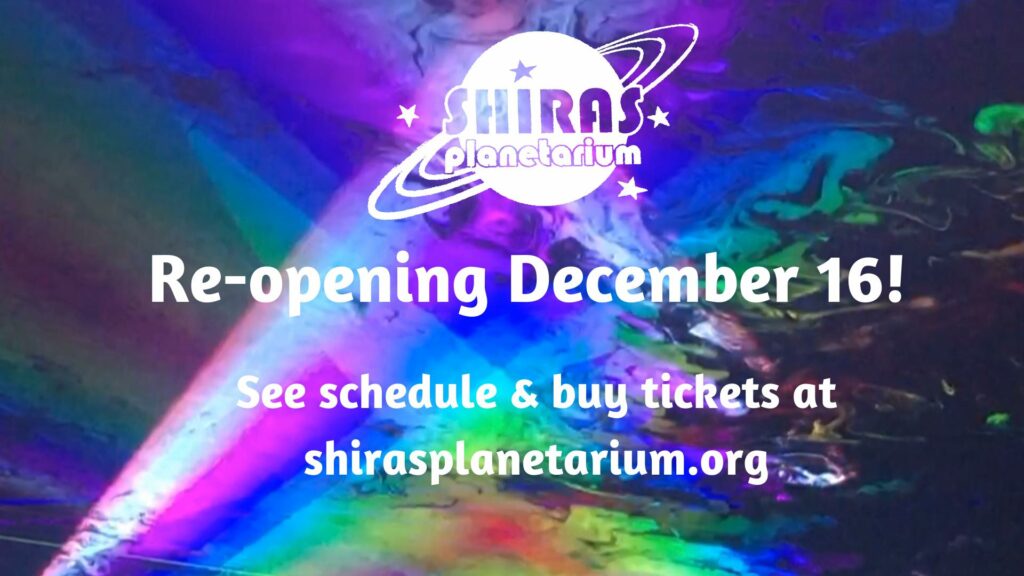 Marquette Area Public Schools is pleased to announce the re-opening of the Shiras Planetarium to the public on Thursday, December 16, 2021!
The last show we did before the pandemic was on March 7, 2020. MSHS classes have been utilizing the planetarium during the closure, but we are now opening to other school field trip groups and offering a limited schedule of public shows.
Those interested in scheduling field trips during the school day should reach out to us at [email protected] for more information and to schedule your trip! People can view our public show schedule at shirasplanetarium.org.
On Thursday, December 16(6:30 pm), our first show will be a tour of the current night sky featuring our Minolta MS-8 star projector (circa 1992). We will look at the planets and constellations visible in the current sky. It will be our first public show since February of 2020.
We are looking forward to checking out the stars with audiences again!
After the star show and a short intermission, we will be hosting our "Laser Shows Return" special event at 8:00 pm! We will be showcasing our newly updated laser system, with two additional lasers added to the mix. We will also be showing some of our very own MSHS student's work! Some of our students have created laser shows of their own, and we are ready to show the world their work! You can see it first! One group of students even composed and recorded their music! We cannot wait to show audiences all we have been working on! We will end the show with a few sneak peeks at some new content we will be launching in the months ahead! Celebrate the return of the laser shows with us!
After over 20 months of closure, you probably thought we were gone forever! Instead, we are excited to announce that we have been quite busy when we closed, and we have a long list of new things to share with you over the next few years! A couple of years back, we set a goal to raise $600,000 to bring high-quality digital projection to our dome, and we are about two-thirds of the way to our goal! We will be working hard to raise the final funds to place the order for our new system this school year!
The future is bright for the Shiras Planetarium! How can you help us reach our goals? There are many ways! We would love to see you at a show! All the money raised in the planetarium stays in the planetarium. We are also accepting donations! You can drop them off at a show or mail them to us at 1203 W. Fair Avenue in Marquette, MI, 49855. Want to help us without donating? You could spread the word about our show schedule or leave us a positive review on Facebook or Google! Positive ratings help us reach a wider audience without paying high advertising fees.
We are so thrilled to be opening our doors to the public again! We hope to see you soon at the Shiras Planetarium!